Thermal Break Aluminum Windows casement awning sliding folding european thermally broken bridge engery efficient aluminium door
Product Description
#detail_decorate_root .magic-0{border-bottom-style:none;border-bottom-color:#53647a;font-family:Roboto;font-size:24px;color:#fff;background-color:#1c3556;font-style:normal;border-bottom-width:2px;padding-top:8px;padding-bottom:4px}#detail_decorate_root .magic-1{width:750px}#detail_decorate_root .magic-2{overflow:hidden;width:750px;height:734px;margin-top:0;margin-bottom:0;margin-left:0;margin-right:0}#detail_decorate_root .magic-3{margin-top:0;margin-left:0;width:750px;height:734px}#detail_decorate_root .magic-4{vertical-align:top}#detail_decorate_root .magic-5{padding:0;margin:0;color:#333;font-size:14px;padding-left:4px;font-weight:bold;white-space:pre-wrap}#detail_decorate_root .magic-6{vertical-align:top;display:block;padding-right:4px;box-sizing:border-box;padding-left:4px}#detail_decorate_root .magic-7{vertical-align:top;padding-bottom:4px;box-sizing:border-box;padding-top:4px}#detail_decorate_root .magic-8{padding:0;margin:0;white-space:pre-wrap;font-size:14px}#detail_decorate_root .magic-9{width:446px}#detail_decorate_root .magic-10{overflow:hidden;width:446px;height:297.3333333333333px;margin-top:0;margin-bottom:0;margin-left:0;margin-right:0}#detail_decorate_root .magic-11{margin-top:0;margin-left:0;width:446px;height:297px}#detail_decorate_root .magic-12{width:300px;display:flex;flex-direction:column;margin-right:0;margin-left:4px}#detail_decorate_root .magic-13{font-weight:normal}#detail_decorate_root .magic-14{width:300px;display:flex;flex-direction:column;margin-right:4px;margin-left:0}#detail_decorate_root .magic-15{width:750px;border-collapse:collapse}#detail_decorate_root .magic-16{min-height:18px;padding:5px 10px;width:126px;min-height:18px;box-sizing:content-box}#detail_decorate_root .magic-17{min-height:18px;padding:5px 10px;width:575px;min-height:18px;box-sizing:content-box}#detail_decorate_root .magic-18{overflow:hidden;width:750px;height:614.3835616438356px;margin-top:0;margin-bottom:0;margin-left:0;margin-right:0}#detail_decorate_root .magic-19{margin-top:0;margin-left:0;width:750px;height:614.3835616438356px}#detail_decorate_root .magic-20{overflow:hidden;width:750px;height:243px;margin-top:0;margin-bottom:0;margin-left:0;margin-right:0}#detail_decorate_root .magic-21{margin-top:0;margin-left:0;width:750px;height:243px}#detail_decorate_root .magic-22{min-height:18px;padding:5px 10px;width:225px;min-height:18px;box-sizing:content-box}#detail_decorate_root .magic-23{text-align:center}#detail_decorate_root .magic-24{min-height:18px;padding:5px 10px;width:234px;min-height:18px;box-sizing:content-box}#detail_decorate_root .magic-25{min-height:18px;padding:5px 10px;width:223px;min-height:18px;box-sizing:content-box}#detail_decorate_root .magic-26{overflow:hidden;width:750px;height:1534.931506849315px;margin-top:0;margin-bottom:0;margin-left:0;margin-right:0}#detail_decorate_root .magic-27{margin-top:0;margin-left:0;width:750px;height:1534.931506849315px}#detail_decorate_root .magic-28{overflow:hidden;width:750px;height:464.78873239436615px;margin-top:0;margin-bottom:0;margin-left:0;margin-right:0}#detail_decorate_root .magic-29{margin-top:0;margin-left:0;width:749.9999999999999px;height:464.78873239436615px}#detail_decorate_root .magic-30{overflow:hidden;width:750px;height:331.193838254172px;margin-top:0;margin-bottom:0;margin-left:0;margin-right:0}#detail_decorate_root .magic-31{margin-top:0;margin-left:0;width:750px;height:331.193838254172px}#detail_decorate_root .magic-32{overflow:hidden;width:750px;height:314.98079385403327px;margin-top:0;margin-bottom:0;margin-left:0;margin-right:0}#detail_decorate_root .magic-33{margin-top:0;margin-left:0;width:749.9999999999999px;height:314.98079385403327px}#detail_decorate_root .magic-34{overflow:hidden;width:750px;height:285.6164383561644px;margin-top:0;margin-bottom:0;margin-left:0;margin-right:0}#detail_decorate_root .magic-35{margin-top:0;margin-left:0;width:750px;height:285.6164383561644px} Products Description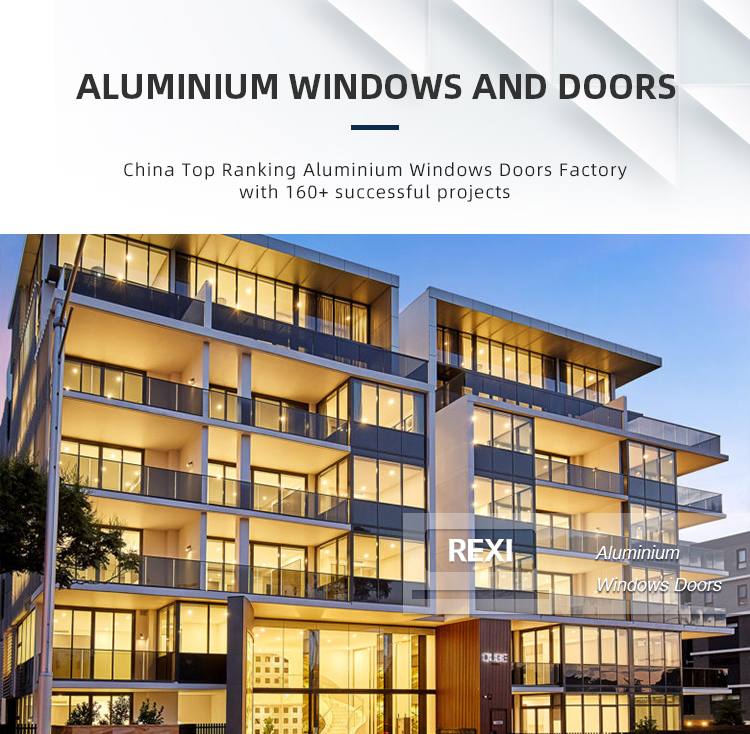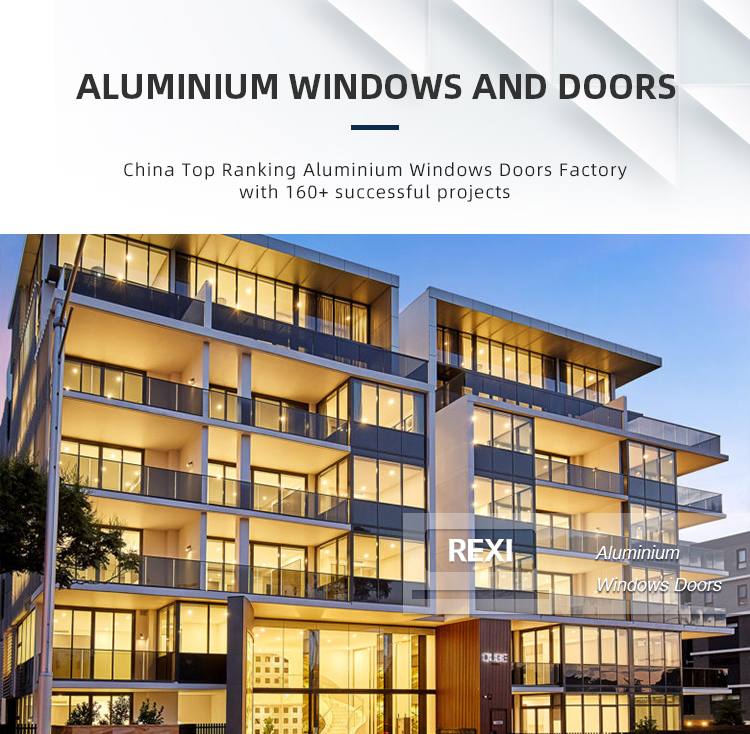 Thermal Break
Aluminum windows
casement awning sliding folding european thermally broken bridge engery efficient aluminium door
REXI specializes in the design, fabrication and engineering of high performance Thermal Break Aluminum Windows and Doors. We strive to deliver products of the highest quality and of great value, supported with professional assistance and advice for all our customers' project requirements.
Our comprehensive aluminium windows and doors product range including awning window,
Double Hung Window
,
casement window
, folding window,
sliding window
, hinged door, pivot door, folding door, sliding door and window wall etc. offers outstanding variety, genuine value and professional advice.
Product Features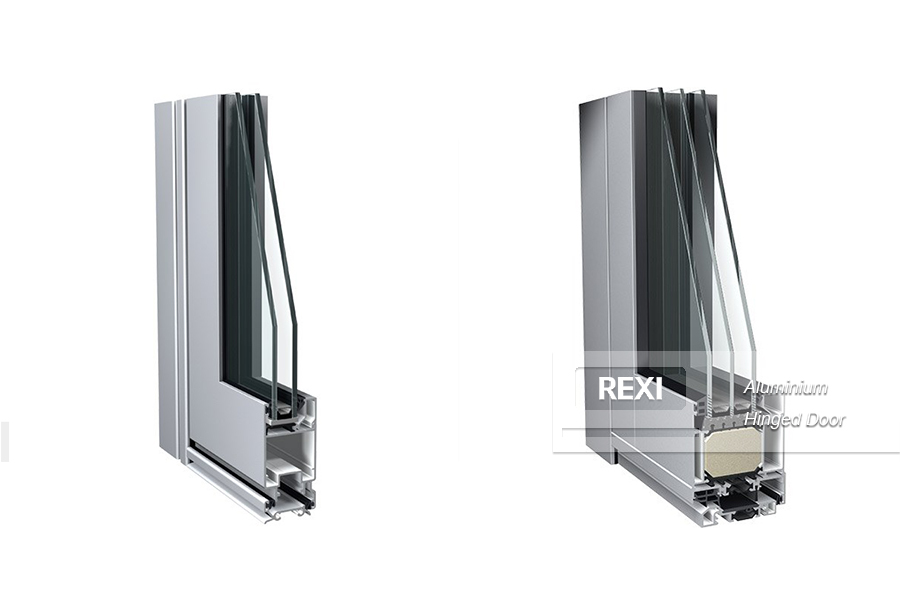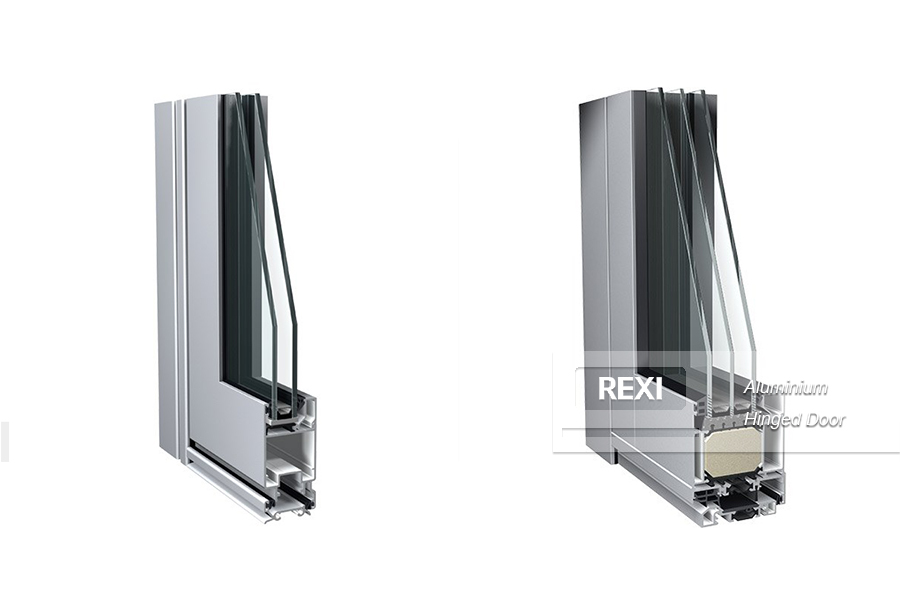 Excellent Energy Efficient - system U-value low to 0.8 W/㎡.K
Overall aluminium windows and doors thermal performance is a function of the frame and the glazing infill panel. REXI have specially designed
Aluminum Door
and window system and the system U-value is low to 0.8 W/㎡.K Strong Moisture Protection - water penetration resistance high to 1000 Pa
REXI mechanically-joined corners stay square and true over years of use, helping to keep homes dry. The water penetration resistance high to 1000 Pa.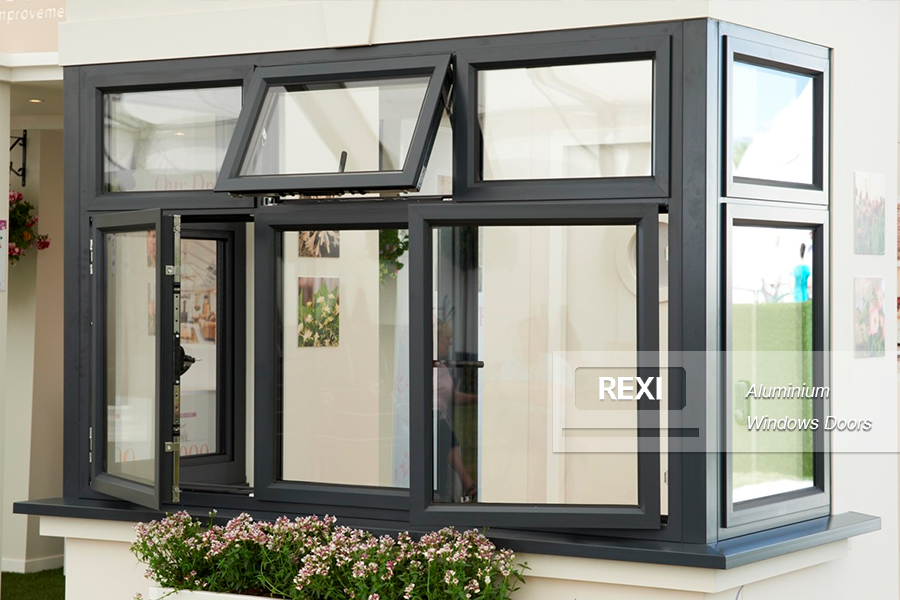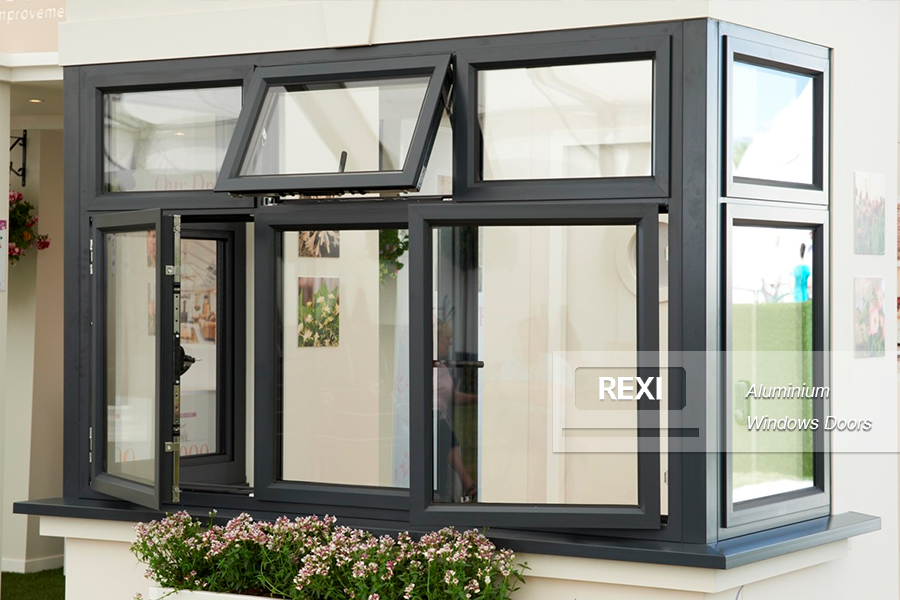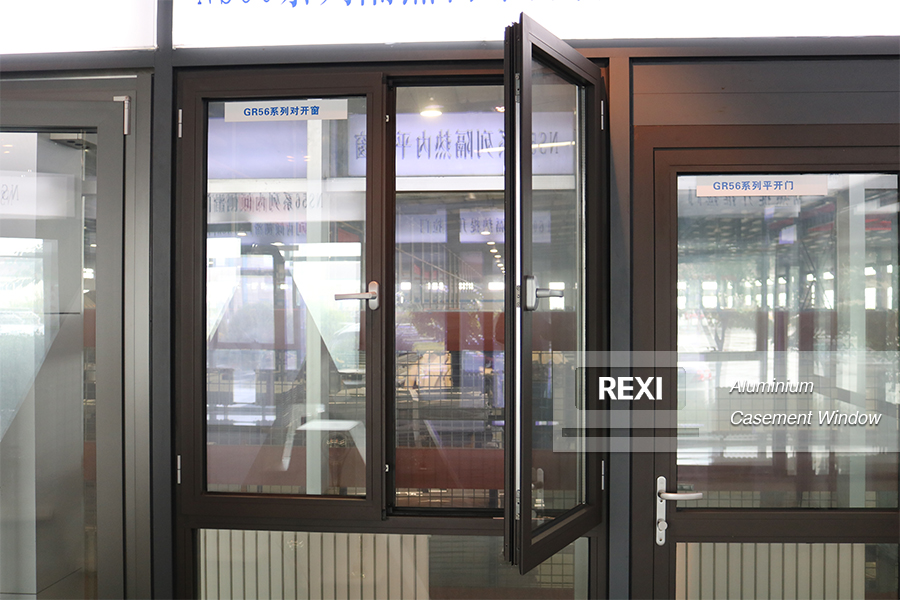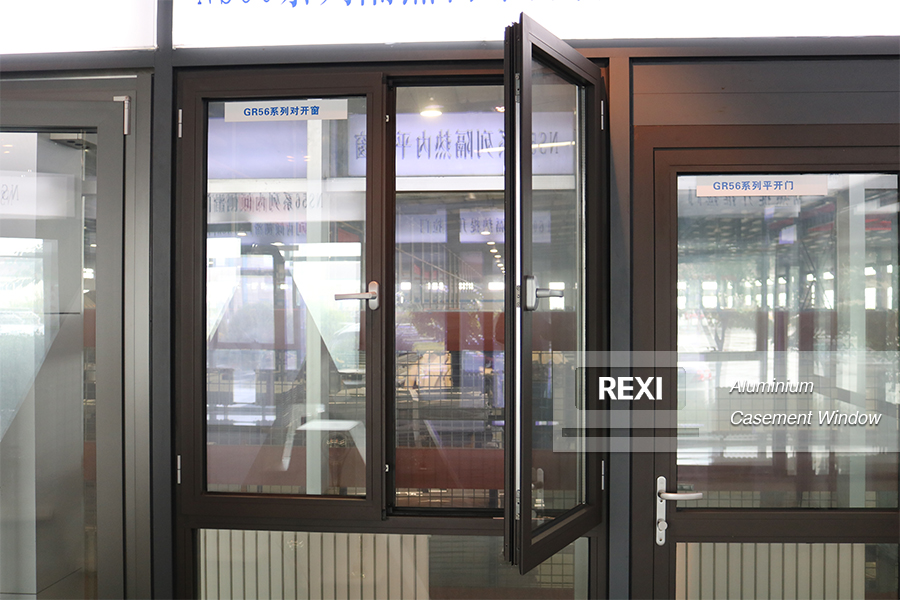 Choice Materials & Precise Fabrication - a wide variety of aesthetic variations
With choice materials, we offer a wide variety of aesthetic variations of aluminium finish, glazing and hardware through a precise
fabrication. System Achievements
•Energy Efficiency U-value low to 0.8 W/㎡.K •Water Penetration Resistance high to 1000 Pa •Air infiltration low to 0.3L/S*m2(0.06cfm/ft2)•Sound Resistance Rw to 68 dB•Durable Powder Coating Warranty to 20 years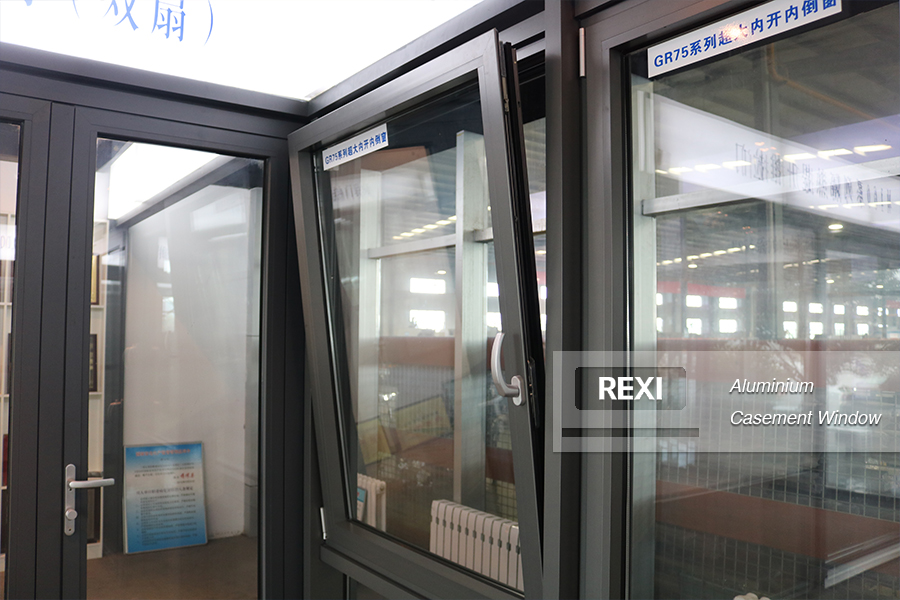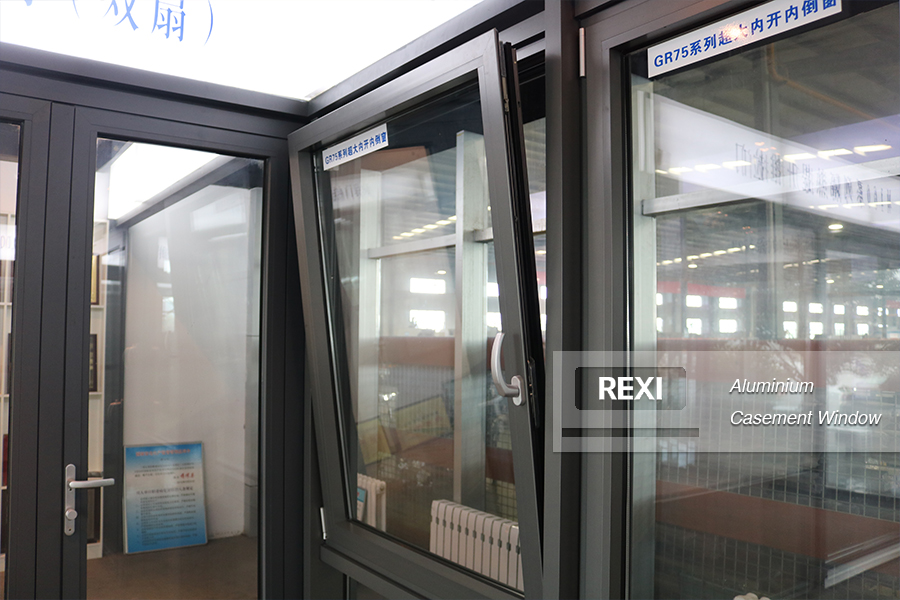 Quick Details
| | |
| --- | --- |
| Types | Aluminium Windows and Doors |
| Frame Material | Aluminum alloy 6063-T5 |
| Finish | PVDF, Powder Coated, Anodized, Electrophoresis, Wooden Grain etc. |
| Profile Thickness | 1.4mm-2mm |
| Insulation | Thermal Break, Non-Thermal Break |
| Glass Types | Tempered, Laminated, Double Glazing, Ceramic Fritted |
| Hardware | Chinese top brand/ International brand |
| Fly Screens | Stainless steel/Aluminum/ Fiberglass / Retractable & invisible fly screen. |
| Advantages | Professional Design Team / 21,000 square meters large work shop/ International Standards |
| Standards | In compliance with US BS AU EU standards |
| Application | Residential Houses & apartments, Commercial Buildings, Skyscrapers etc. |
| Supply Ability | 25,000 square meters per Month |
| Packaging | Plastic Film, EPE Cloth, Wood Case, Steel stillage |
| Loading Port | Qingdao |
Product Range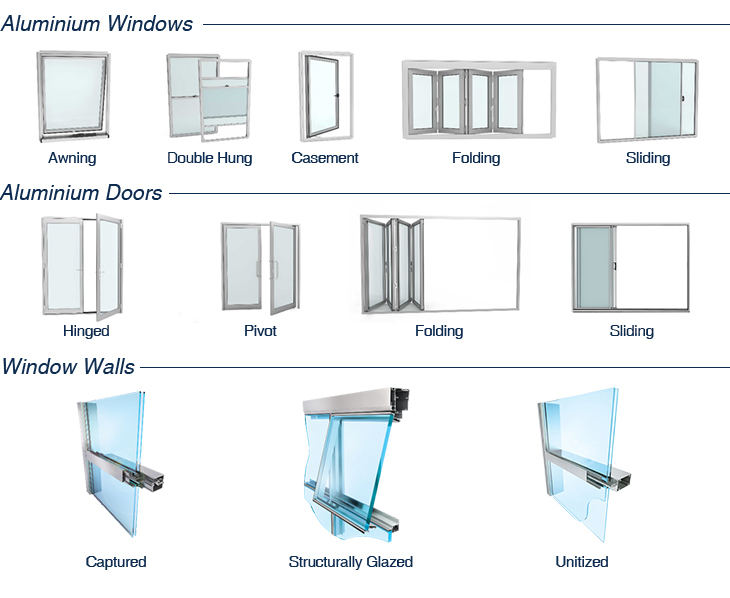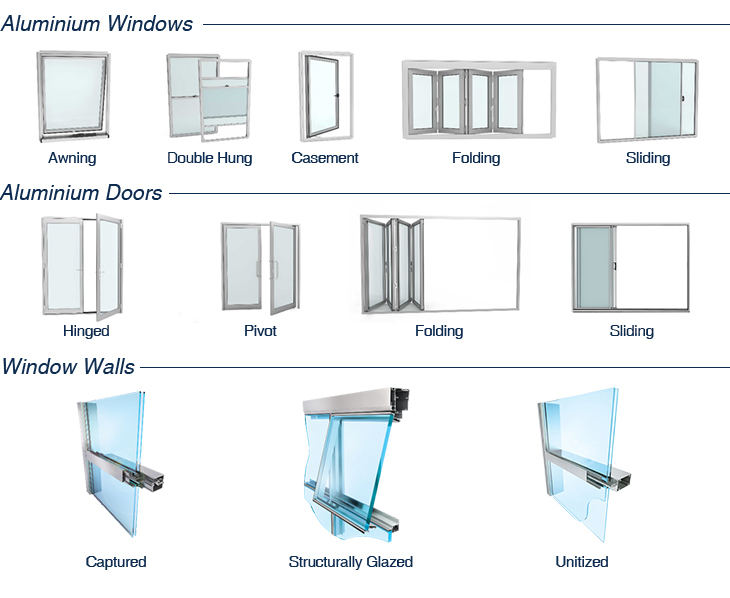 Company Profile


REXI Industries is a professional leader in design, fabrication and installation of windows, doors and curtain walls. Here at REXI we have full commitment from concept through to completion delivering the project on time and budget. Our designs are produced using tried and proven details developed by our own engineers. We will work with you to find the right system to meet your design's aesthetics and performance.
Proudly we have one of the largest fabrication workshop in North China which covers 21,000 square meters with over 100 experienced workers. We have the big enough capacity for the large scale project. Production
| | | |
| --- | --- | --- |
| | | Annual Production Capacity |
| | | |
| | | |
| Aluminium Windows & Doors | | |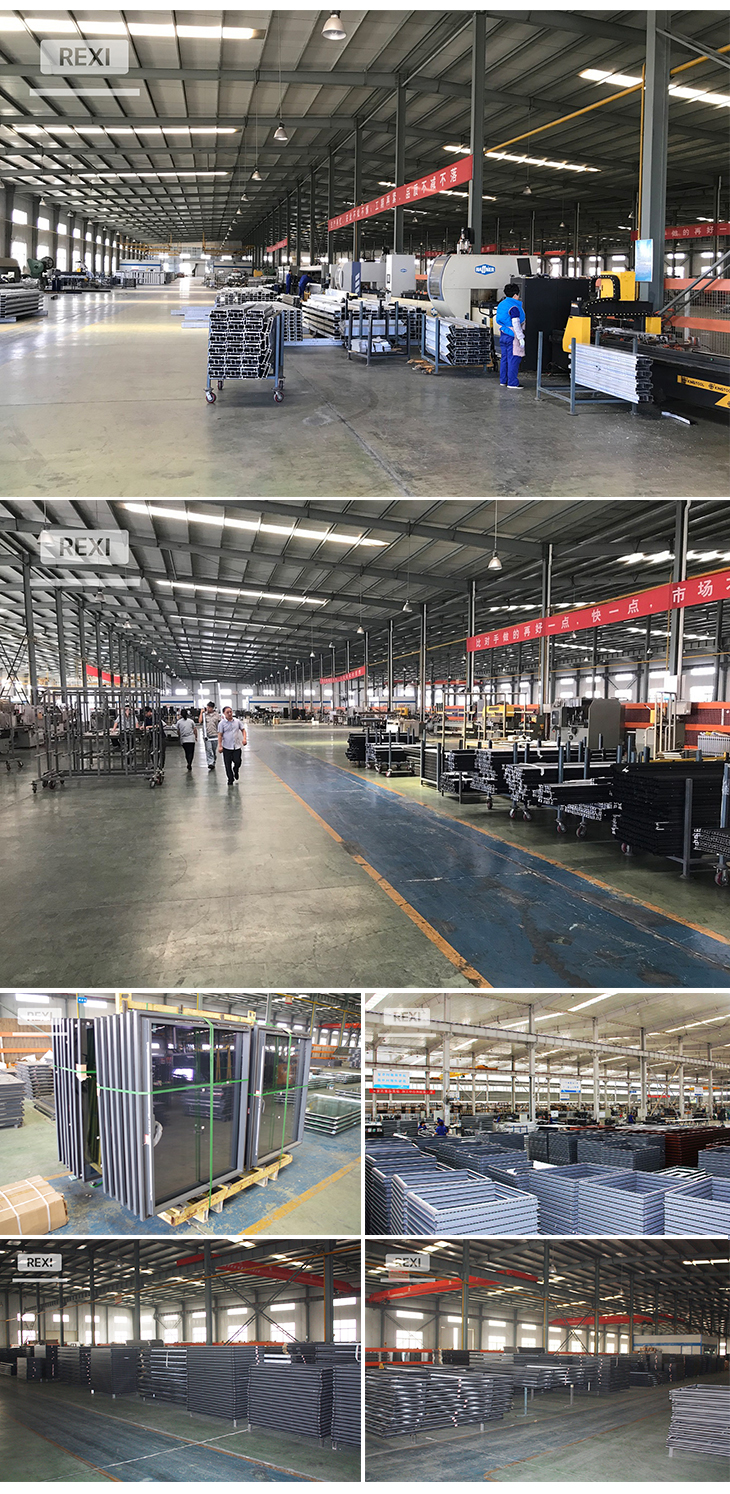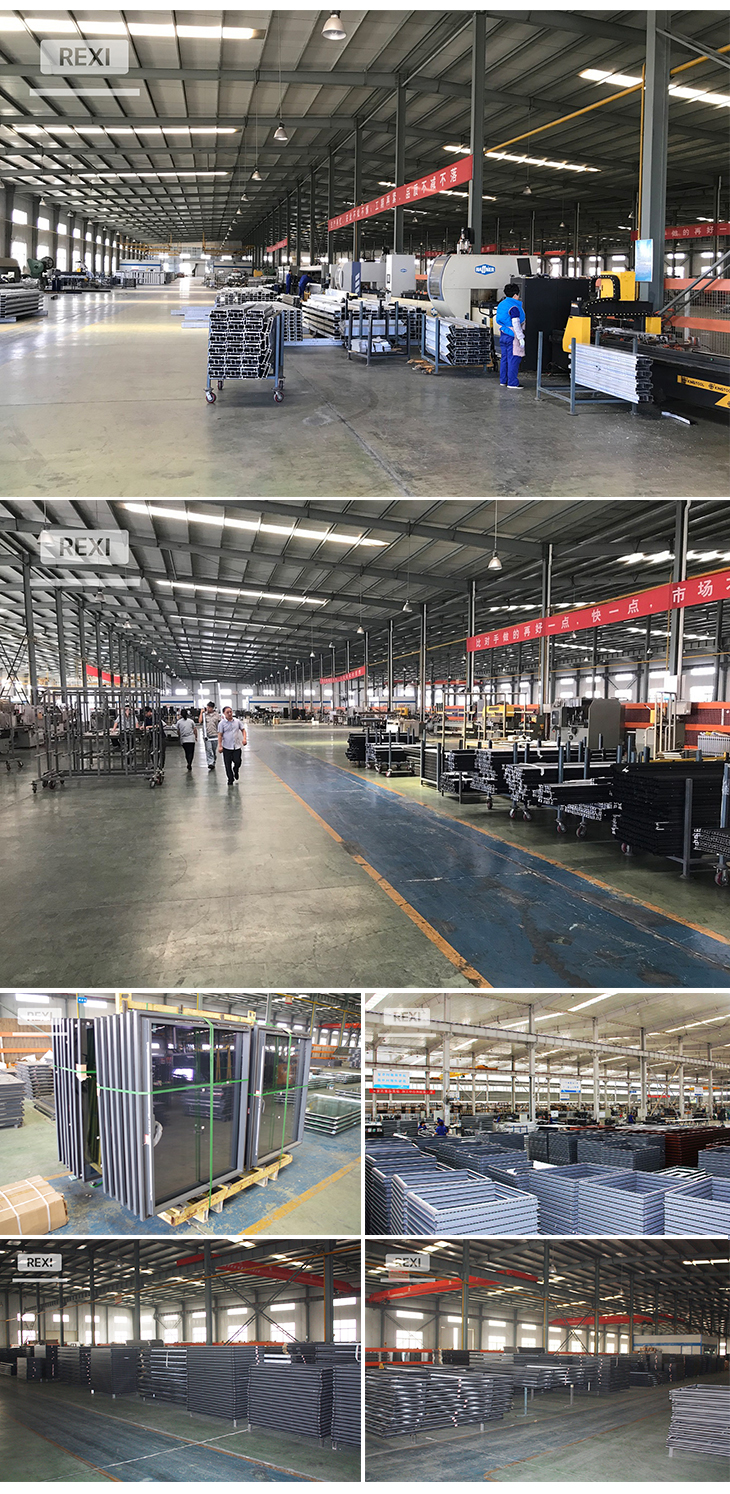 Quality Control ALUMINUM PROFILES INCOMING INSPECTION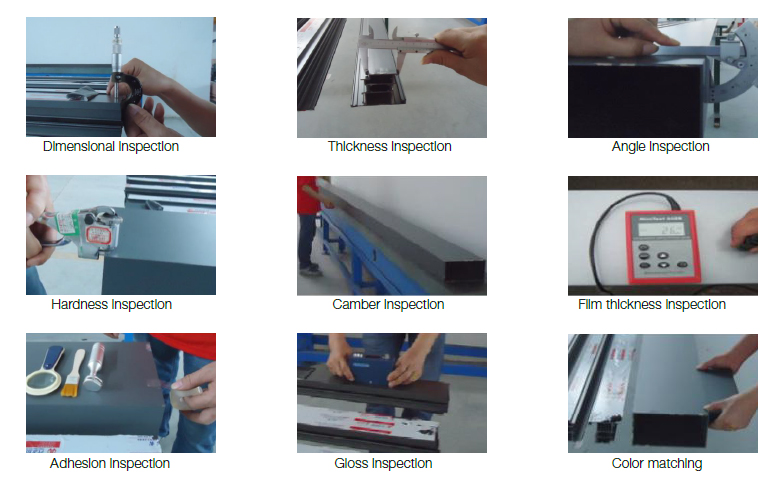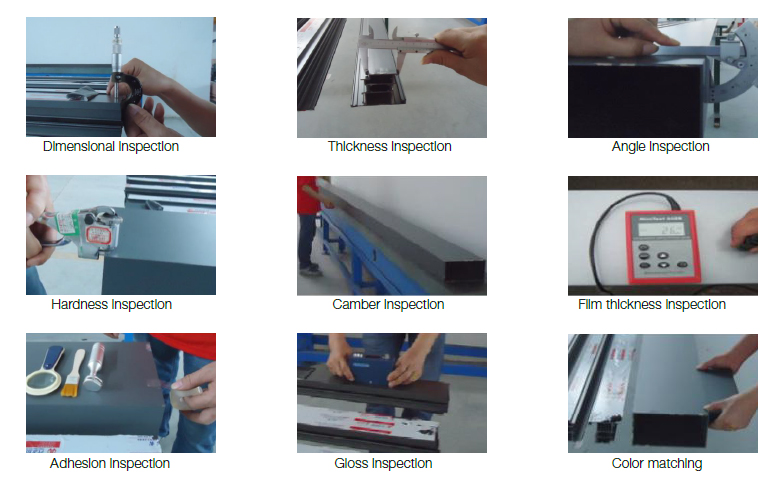 MACHINING QUALITY CONTROL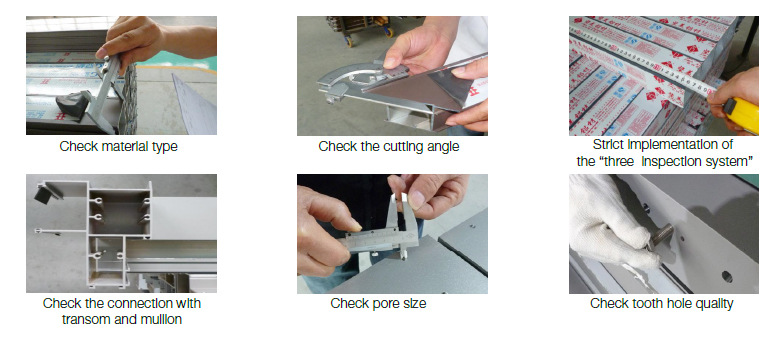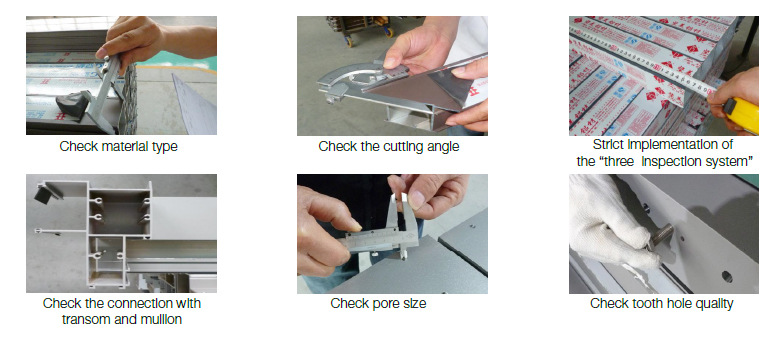 ASSEMBLY QUALITY CONTROL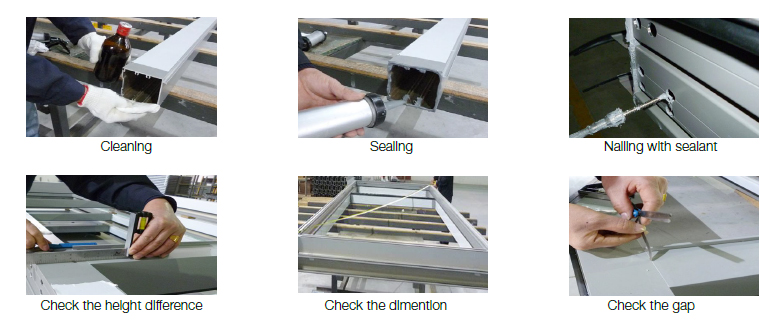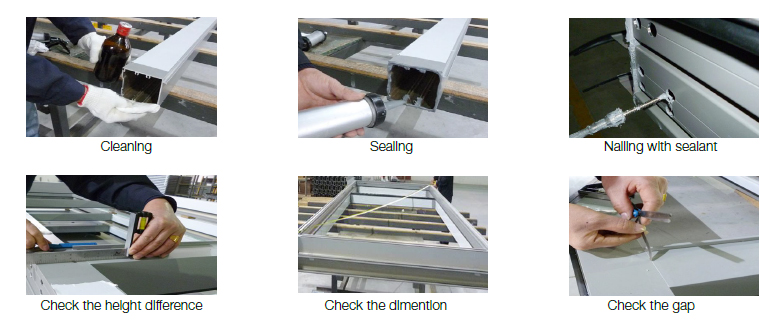 Packing & Shipment


Contact us if you need more details on Thermal Break Aluminum Windows. We are ready to answer your questions on packaging, logistics, certification or any other aspects about Thermal Break Windows、Thermal Break Aluminum Windows Casement Awning Sliding Folding European Thermally Broken Bridge Engery Efficient Aluminium Door. If these products fail to match your need, please contact us and we would like to provide relevant information.
Product Categories : Alu.Windows Doors > Windows Doors