Spider Glass Fitting Curtain Wall System Structural Glazing Point Supported Fixing Suspension Rope Rib Bolted Facade
Product Description
#detail_decorate_root .magic-0{border-bottom-style:none;border-bottom-color:#53647a;font-family:Roboto;font-size:24px;color:#fff;background-color:#1c3556;font-style:normal;border-bottom-width:2px;padding-top:8px;padding-bottom:4px}#detail_decorate_root .magic-1{width:750px}#detail_decorate_root .magic-2{overflow:hidden;width:750px;height:535.7142857142857px;margin-top:0;margin-bottom:0;margin-left:0;margin-right:0}#detail_decorate_root .magic-3{margin-top:0;margin-left:0;width:750px;height:535.7142857142857px}#detail_decorate_root .magic-4{vertical-align:top}#detail_decorate_root .magic-5{padding:0;margin:0;color:#333;font-size:14px;padding-left:4px;font-weight:bold;white-space:pre-wrap}#detail_decorate_root .magic-6{vertical-align:top;display:block;padding-right:4px;box-sizing:border-box;padding-left:4px}#detail_decorate_root .magic-7{vertical-align:top;padding-bottom:4px;box-sizing:border-box;padding-top:4px}#detail_decorate_root .magic-8{padding:0;margin:0;white-space:pre-wrap;font-size:14px}#detail_decorate_root .magic-9{color:#5c5c5c}#detail_decorate_root .magic-10{width:446px}#detail_decorate_root .magic-11{overflow:hidden;width:446px;height:297.3333333333333px;margin-top:0;margin-bottom:0;margin-left:0;margin-right:0}#detail_decorate_root .magic-12{margin-top:0;margin-left:0;width:446px;height:297px}#detail_decorate_root .magic-13{width:300px;display:flex;flex-direction:column;margin-right:0;margin-left:4px}#detail_decorate_root .magic-14{font-weight:normal}#detail_decorate_root .magic-15{width:300px;display:flex;flex-direction:column;margin-right:4px;margin-left:0}#detail_decorate_root .magic-16{overflow:hidden;width:446px;height:323.4986666666667px;margin-top:0;margin-bottom:0;margin-left:0;margin-right:0}#detail_decorate_root .magic-17{width:750px;border-collapse:collapse}#detail_decorate_root .magic-18{min-height:18px;padding:5px 10px;width:126px;min-height:18px;box-sizing:content-box}#detail_decorate_root .magic-19{min-height:18px;padding:5px 10px;width:575px;min-height:18px;box-sizing:content-box}#detail_decorate_root .magic-20{overflow:hidden;width:750px;height:614.3835616438356px;margin-top:0;margin-bottom:0;margin-left:0;margin-right:0}#detail_decorate_root .magic-21{margin-top:0;margin-left:0;width:750px;height:614.3835616438356px}#detail_decorate_root .magic-22{overflow:hidden;width:750px;height:243px;margin-top:0;margin-bottom:0;margin-left:0;margin-right:0}#detail_decorate_root .magic-23{margin-top:0;margin-left:0;width:750px;height:243px}#detail_decorate_root .magic-24{min-height:18px;padding:5px 10px;width:225px;min-height:18px;box-sizing:content-box}#detail_decorate_root .magic-25{text-align:center}#detail_decorate_root .magic-26{min-height:18px;padding:5px 10px;width:234px;min-height:18px;box-sizing:content-box}#detail_decorate_root .magic-27{min-height:18px;padding:5px 10px;width:223px;min-height:18px;box-sizing:content-box}#detail_decorate_root .magic-28{overflow:hidden;width:750px;height:1534.931506849315px;margin-top:0;margin-bottom:0;margin-left:0;margin-right:0}#detail_decorate_root .magic-29{margin-top:0;margin-left:0;width:750px;height:1534.931506849315px}#detail_decorate_root .magic-30{overflow:hidden;width:750px;height:464.78873239436615px;margin-top:0;margin-bottom:0;margin-left:0;margin-right:0}#detail_decorate_root .magic-31{margin-top:0;margin-left:0;width:749.9999999999999px;height:464.78873239436615px}#detail_decorate_root .magic-32{overflow:hidden;width:750px;height:331.193838254172px;margin-top:0;margin-bottom:0;margin-left:0;margin-right:0}#detail_decorate_root .magic-33{margin-top:0;margin-left:0;width:750px;height:331.193838254172px}#detail_decorate_root .magic-34{overflow:hidden;width:750px;height:314.98079385403327px;margin-top:0;margin-bottom:0;margin-left:0;margin-right:0}#detail_decorate_root .magic-35{margin-top:0;margin-left:0;width:749.9999999999999px;height:314.98079385403327px}#detail_decorate_root .magic-36{overflow:hidden;width:750px;height:285.6164383561644px;margin-top:0;margin-bottom:0;margin-left:0;margin-right:0}#detail_decorate_root .magic-37{margin-top:0;margin-left:0;width:750px;height:285.6164383561644px} Products Description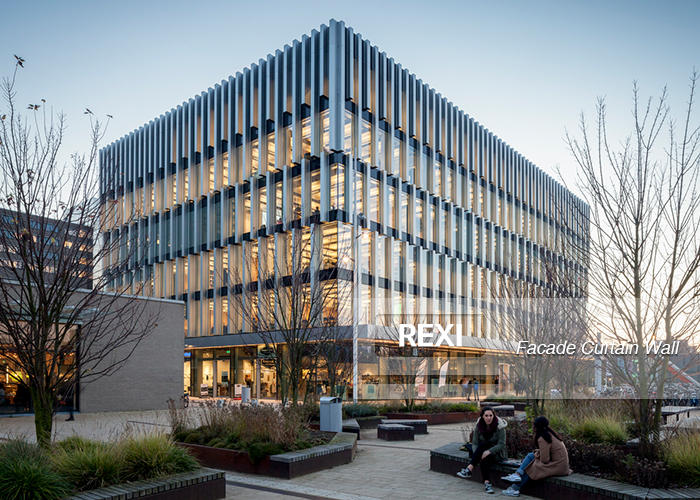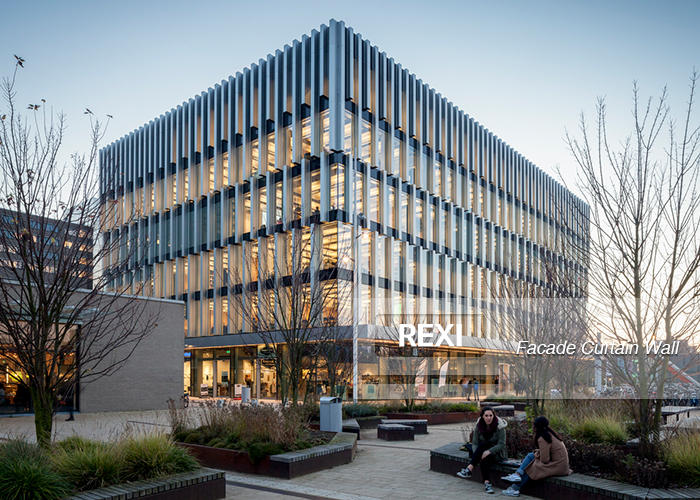 Spider Glass Fitting
Curtain wall
System Structural Glazing Point Supported Fixing Suspension Rope Rib Bolted
Facade
REXI Point Supported
Spider Glass Curtain Wall
is a system for point-supported vertical glazing in which thermally toughened (tempered) glass sheets are used, in single glazing or in insulated glass. Laminated safety glass (tempered laminated glass) is preferable to be used in single glazing or as the outer sheet of the insulating glass units.
The steel structure can use circular steel tube or bar, or fish belly type steel hinge supporting the structure or other
structural hinge forms. The spider claws are installed between the steel structure and the glass panel with its four corners
fixed. The fasteners of spider claws pass through the glass panel holes and clamping the glass panel after being fastened. This connection structure is flexible in material selection and simple in installation.
REXI comprehensive products and services range include the design, fabrication and installation of
Unitized Curtain Wall
,
Stick Curtain Wall
, and Spider Glass Curtain Wall etc.
Product Features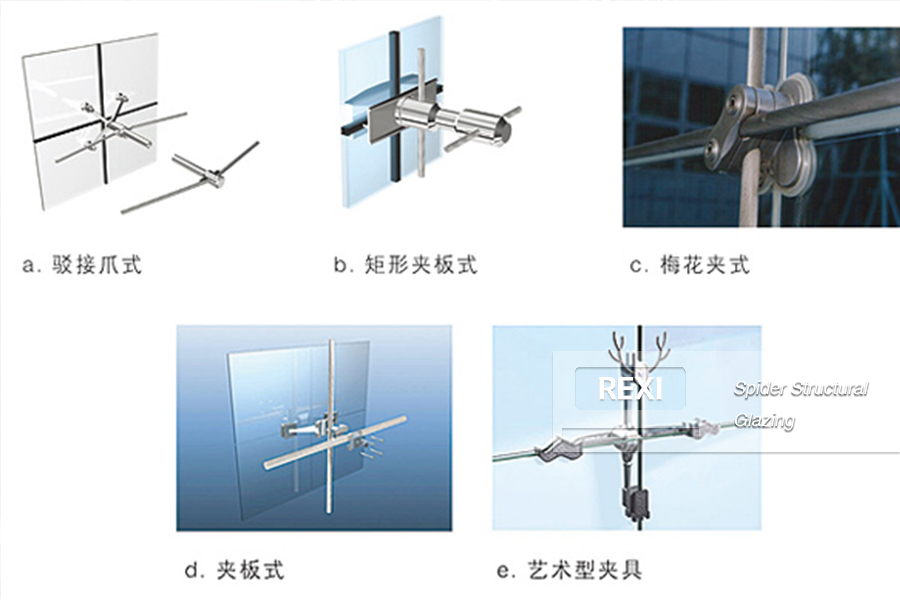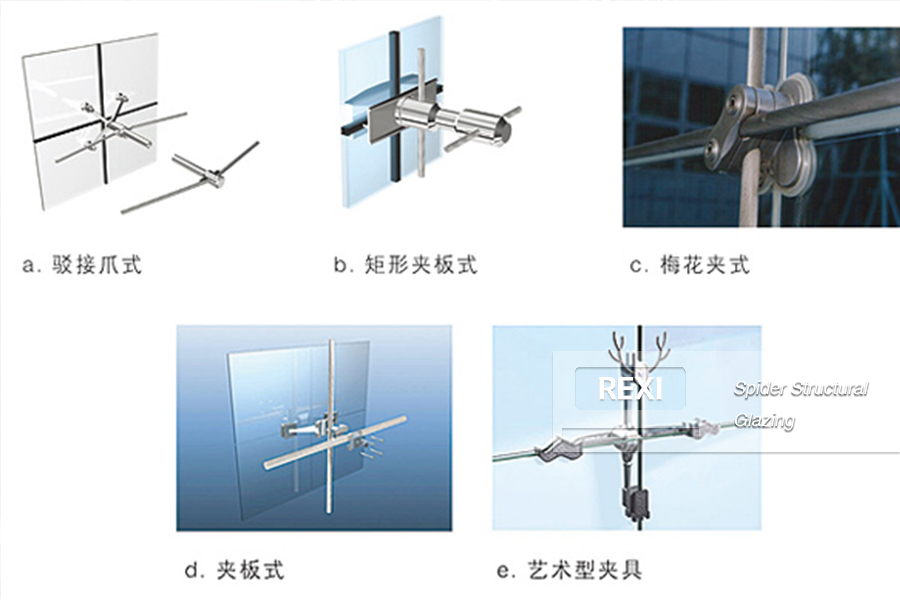 Self-balancing Tension Cable Supported Point-fixing Curtain Wall
It consists of pulling cable or draw rod and steel structure, with the pre-stressed force in pulling cable or draw rod keeping itself balanced and stable. It can take outside load action by decreasing the load transferred to the major structure. When designing, the pre-stressed force of the pulling cable or draw rod must be considered in advance. The pre-stressing of the tension must be pre-specified. The actual installation must be carried out in strict accordance with the prescribed standards.
Single Cable Point-fixing Curtain Wall
It is supported by concave soft cable networks, consists of large scale hanging cable and single layer wire crossing network point system. The large scale hanging cable network system forms different concave fold curtain wall by advanced form finding technology. This system has the super anti earthquake capability between the large scale cable and single layer wire network.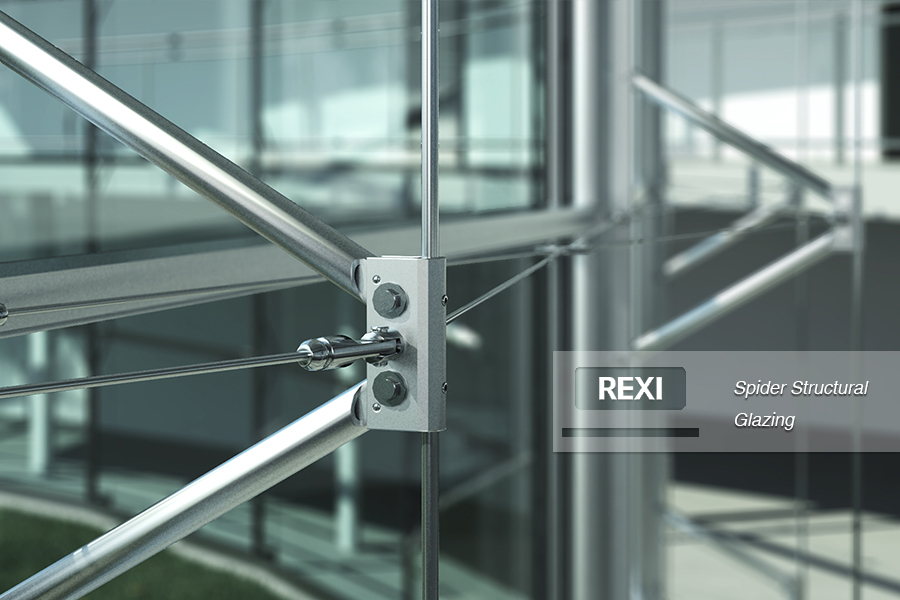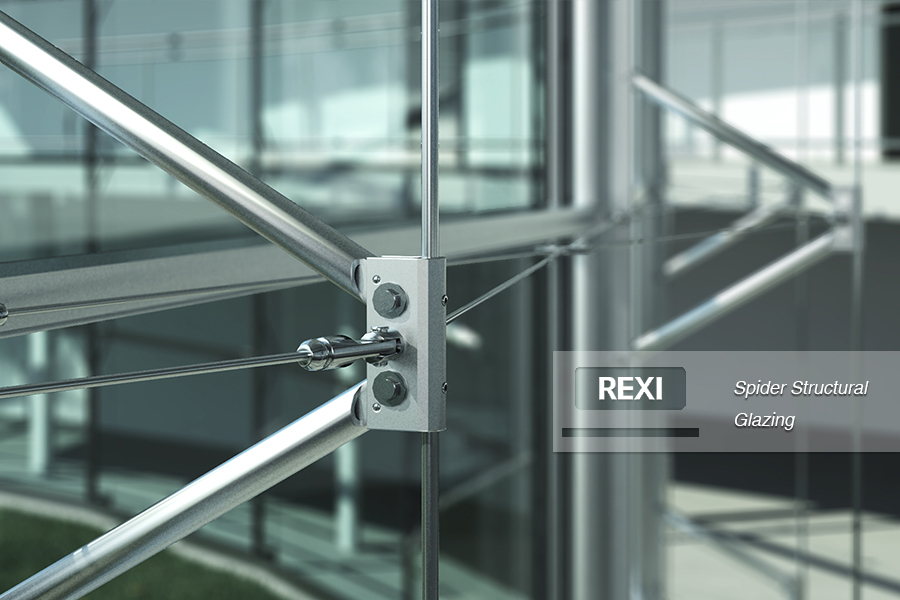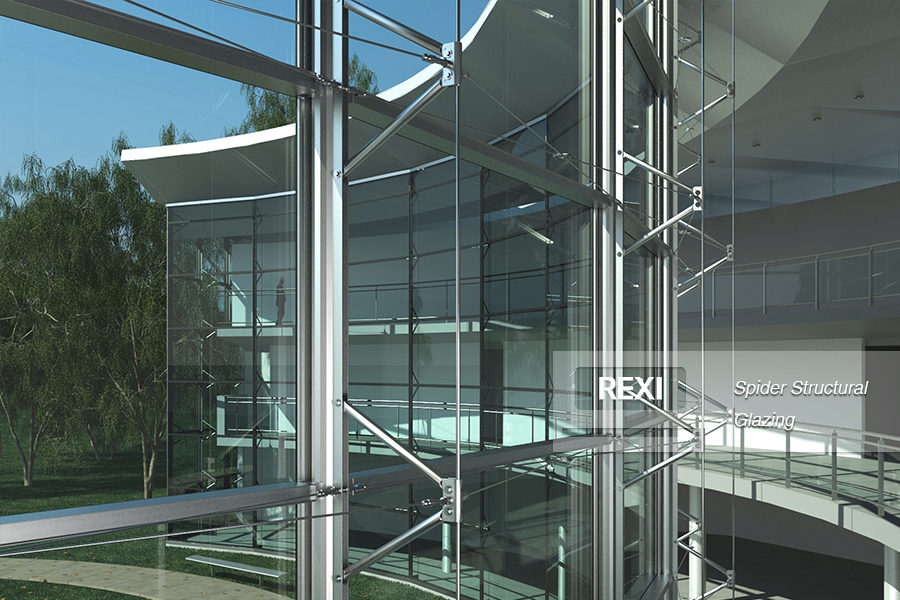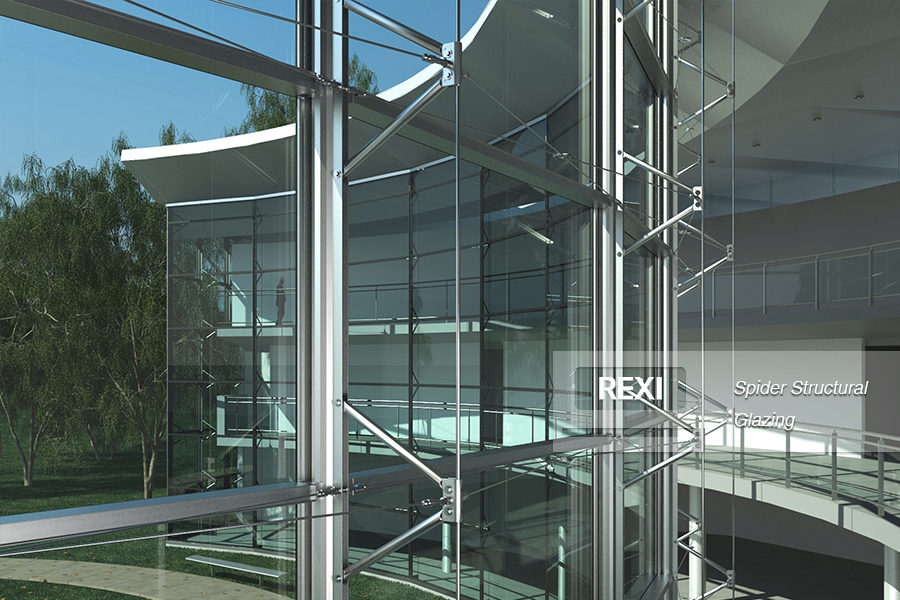 Glass Rib Supported Point-fixing Curtain Wall
There is no steel structure in this system, the glass rib is used for supporting, and the spider claws are connected to the strong thick glass rib, the fasteners of spider claws pass through glass panel holes and clamping the glass panel after being fastened. The top of glass rib is fixed as hanging connection, and the base is as flexible connection.
REXI Spider Curtain Walls provide unobstructed view as a whole, neat, bright and integrated with such advantages as safety,
practicality and artistic taste thus becoming a vogue for modern construction and decorations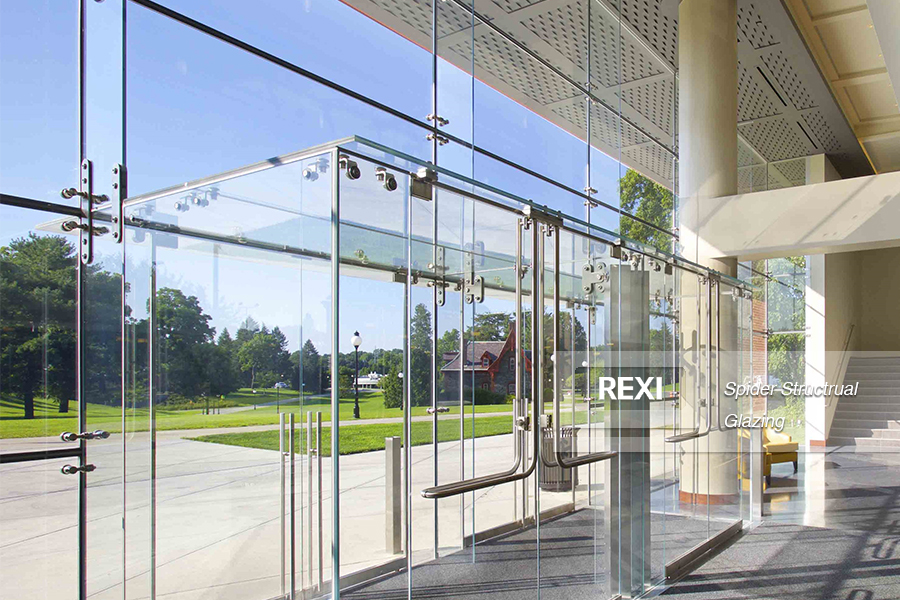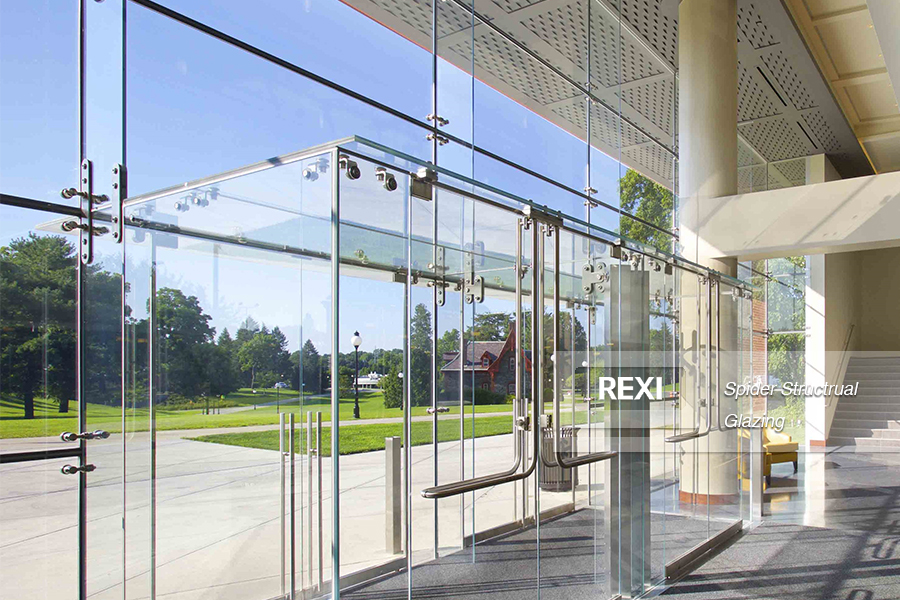 Quick Details
| | |
| --- | --- |
| Types | Unitized curtain wall, Stick curtain wall, Spider curtain wall |
| Material | Aluminium alloy and glass/Aluminum panel/ACP/Stone |
| Hardware | Chinese top brand/Germany brand |
| Glass Types | Tempered, Laminated, Double Glazed, Ceramic Fritted |
| Surface Treatments | PVDF, Powder Coated, Anodized, Electrophoresis, Wooden Grain etc. |
| Aluminium Alloy | 6063-T5/T6, 6061-T5/T6 profile |
| Advantages | Professional Design Team / 21,000 square meters large work shop/ International Standards |
| Standards | In compliance with US BS AU EU standards |
| Application | Residential Houses & apartments, Commercial Buildings, Skyscrapers etc. |
| Supply Ability | 20,000 square meters per Month |
| Packaging | Plastic Film, EPE Cloth, Wood Case, Steel stillage, |
Product Range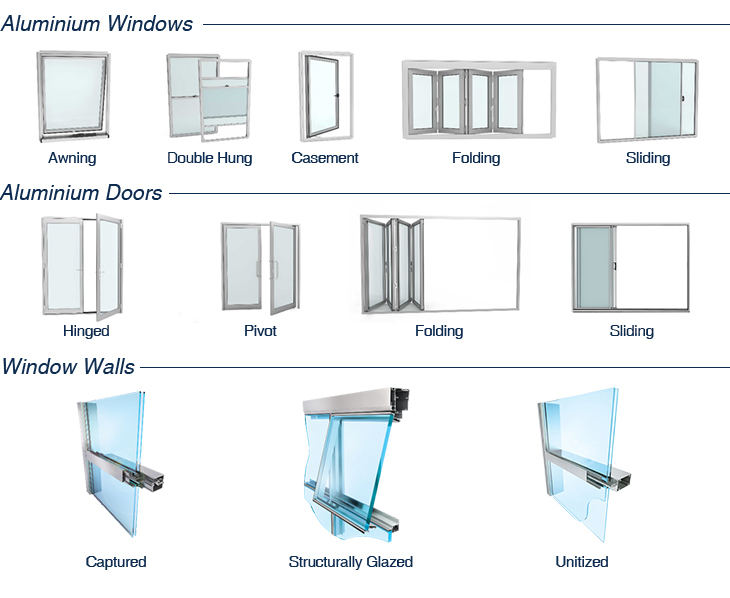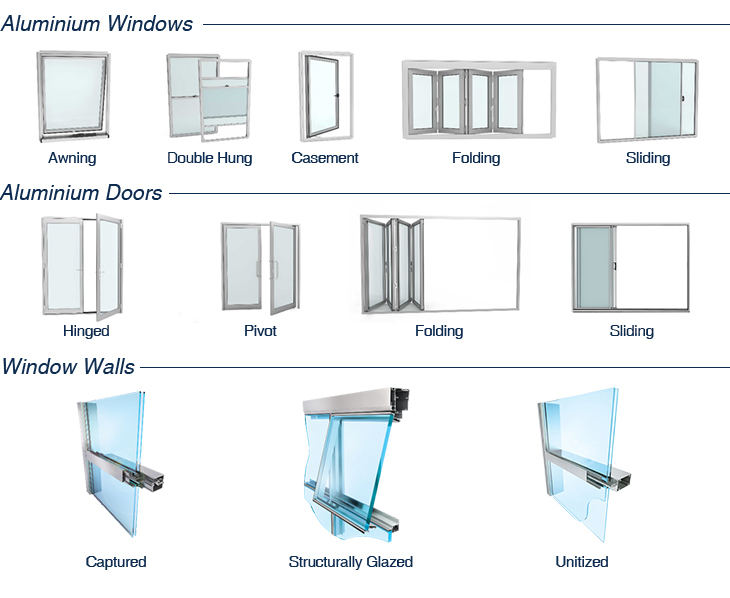 Company Profile


REXI Industries is a professional leader in design, fabrication and installation of windows, doors and curtain walls. Here at REXI we have full commitment from concept through to completion delivering the project on time and budget. Our designs are produced using tried and proven details developed by our own engineers. We will work with you to find the right system to meet your design's aesthetics and performance.
Proudly we have one of the largest fabrication workshop in North China which covers 21,000 square meters with over 100 experienced workers. We have the big enough capacity for the large scale project.
Production
| | | |
| --- | --- | --- |
| | | Annual Production Capacity |
| | | |
| | | |
| Aluminium Windows & Doors | | |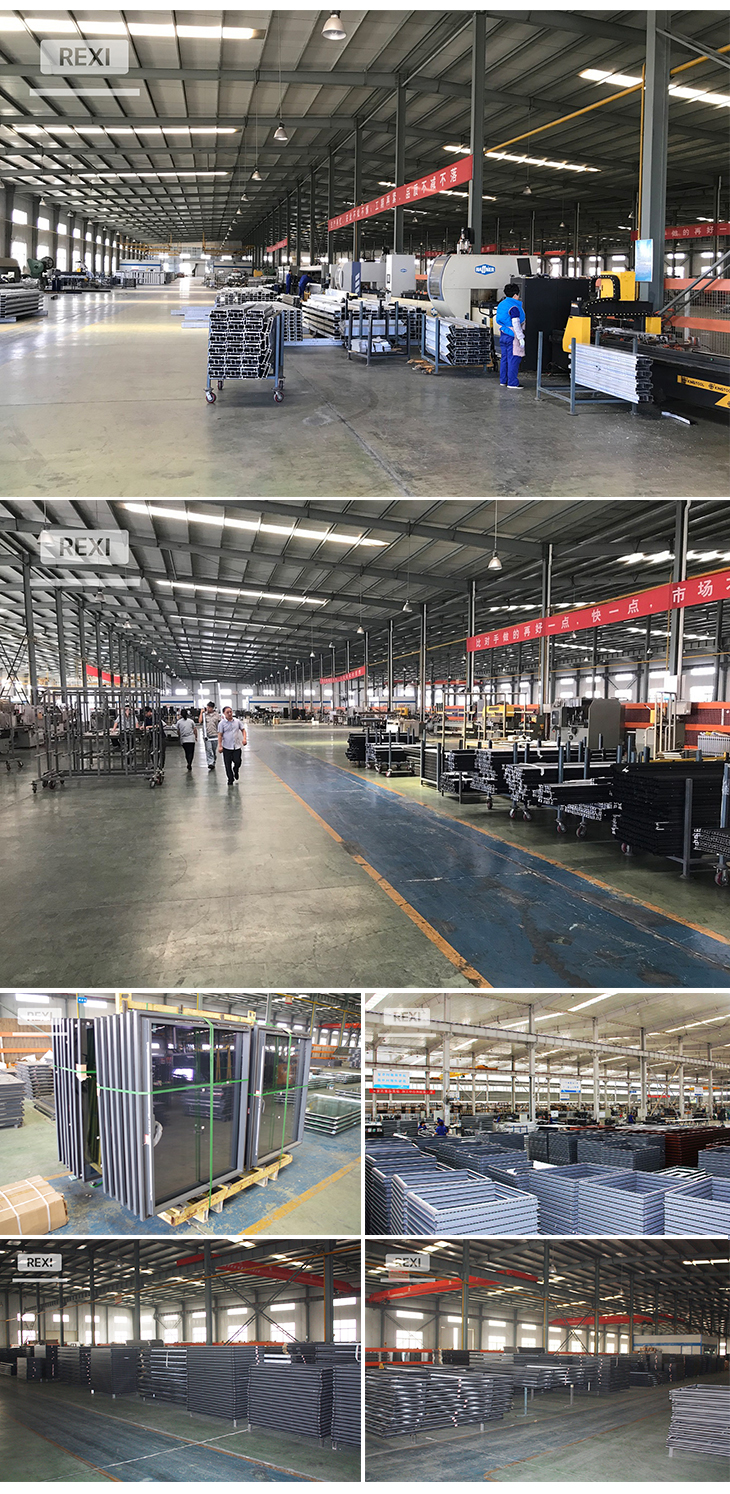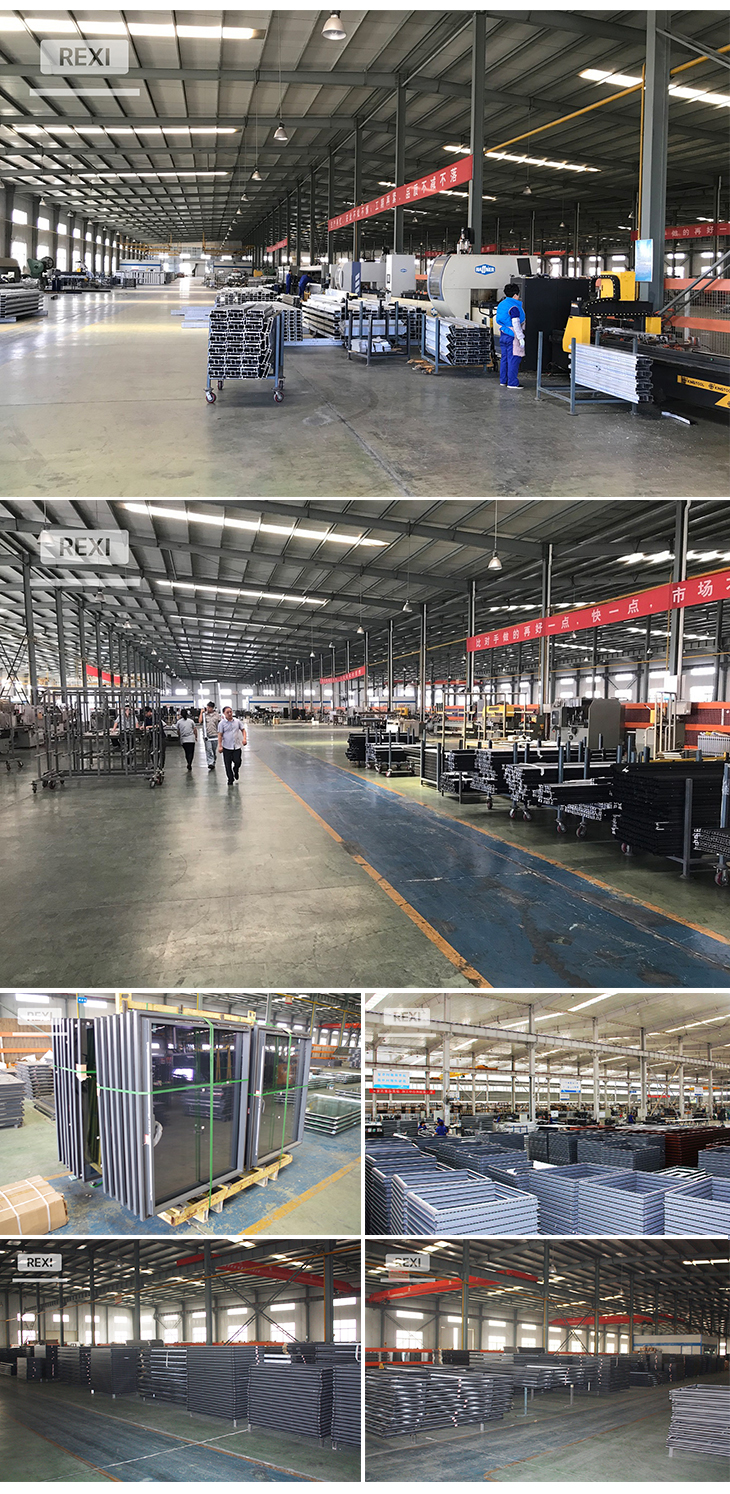 Quality Control ALUMINUM PROFILES INCOMING INSPECTION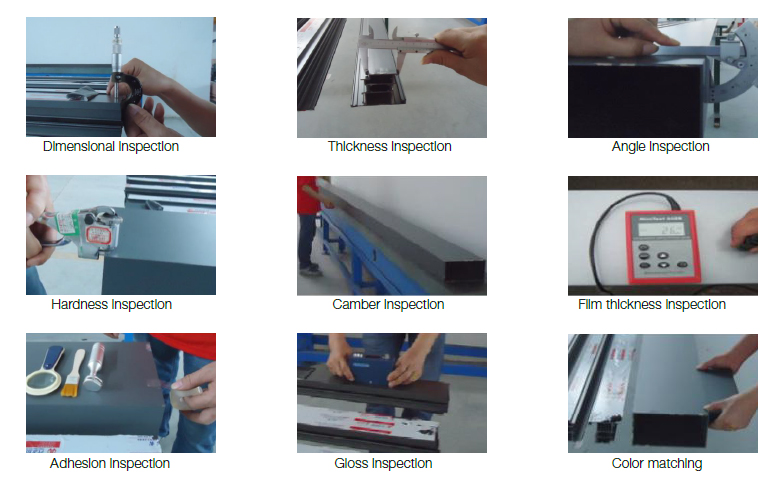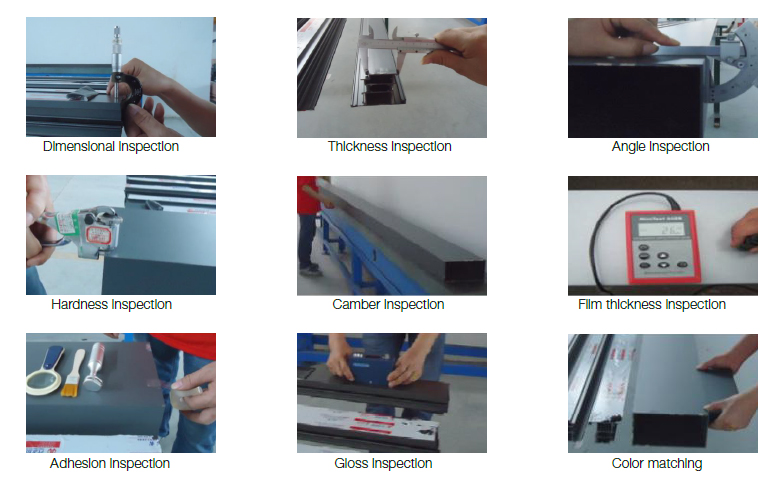 MACHINING QUALITY CONTROL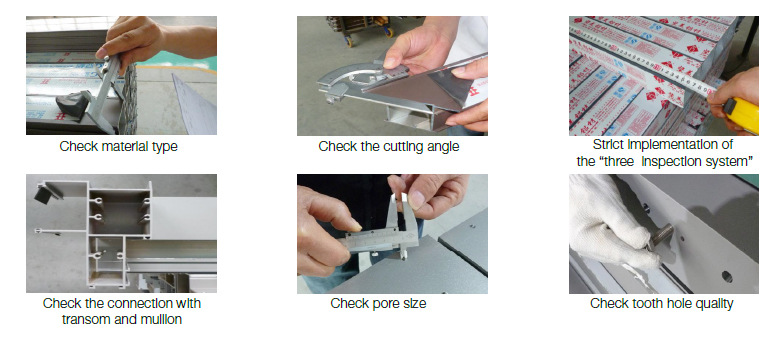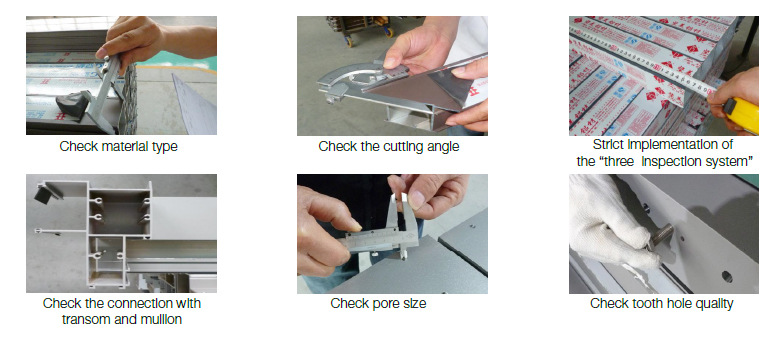 ASSEMBLY QUALITY CONTROL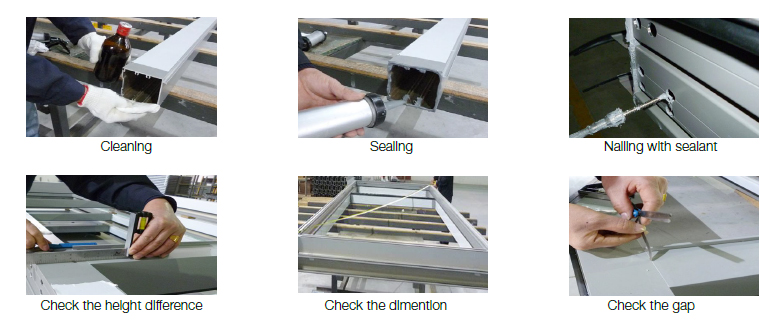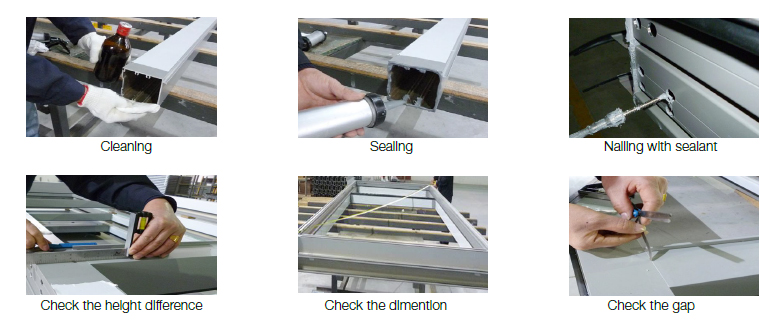 Packing & Shipment


Contact us if you need more details on Structural Glass Curtain Wall. We are ready to answer your questions on packaging, logistics, certification or any other aspects about Double Glazed Curtain Wall、Spider Glass Fitting Curtain Wall System Structural Glazing Point Supported Fixing Suspension Rope Rib Bolted Facade. If these products fail to match your need, please contact us and we would like to provide relevant information.
Product Categories : Spider Glass Curtain Wall